How Virtual Event Software Is Bringing People Together Like Never Before
The world has changed drastically over the past year, and the way we interact with each other is no exception. With virtual event software streaming in, it's now easier than ever to connect people irrespective of their location.
In this article, we look at how virtual event software is bringing people together like never before and transforming the way events are conducted.
Introduction to Virtual Event Software
Virtual event management software has revolutionized the way people interact and connect with each other. It has made it possible for people to connect with each other from anywhere in the world, at any time.
Virtual event software is a powerful tool that allows you to create and manage virtual events. With this software, you can easily create an event, invite attendees, track RSVPs, and send out reminders. You can also use virtual event software to create a custom event website, which will allow you to promote your event and sell tickets online.
Virtual event software is the perfect solution for busy professionals who want to connect with others without having to travel. It is also ideal for those who want to attend an event but cannot due to geographical constraints. Whether you are looking to connect with colleagues or customers, virtual event software can help you do so in a convenient and affordable way.
Benefits of Virtual Event Software
Virtual event software has a number of benefits that make it an attractive option for bringing people together. Perhaps most importantly, virtual event software allows people to attend events from anywhere in the world. This is especially beneficial for events that are not centrally located, or for those who cannot physically travel to the event location.
In addition, virtual event software often includes features that allow for greater interactivity and engagement than traditional events.
For example, chat features allow attendees to communicate with each other in real-time, and many virtual event platforms offer virtual "booths" where exhibitors can showcase their products and services. Attendees can also often participate in polls and surveys, providing valuable feedback to organizers.
Features and Tools Included in Virtual Event Software
Virtual event software is designed to help event planners bring people together for a variety of events, from conferences and trade shows to product launches and company retreats. The best virtual event software includes a range of features and tools to help make your event a success, including:
A virtual venue builder that lets you create custom spaces for your event, complete with 3D floor plans, lighting, and branding.
An exhibitor hall where attendees can browse and connect with the businesses or organizations exhibiting at your event.
A customizable agenda tool that helps you plan and promote your event's sessions and activities.
A social media wall where attendees can share photos and thoughts about your event in real time.
Integrations with popular video conferencing platforms like Zoom, GoToWebinar, and WebEx, so you can host live or recorded sessions at your virtual event.
With virtual event software, you have everything you need to bring people together online for an engaging and successful event.
Tips for Planning a Successful Virtual Event
When it comes to planning a successful virtual event, there are a few key things to keep in mind. First and foremost, you need to make sure that your chosen virtual event software is up to the task. There are a lot of great options out there, but not all of them are created equal. Do your research and choose a platform that will give you everything you need to make your event a success.
Once you have the right software in place, it's time to start planning your event. Make sure you have a clear idea of what you want to achieve and who your target audience is. This will help you determine the best way to structure your event and what content will be most relevant to your attendees.
Once you have a plan in place, it's important to promote your event so that people know about it and can sign up. Use social media, email marketing, and any other channels you have at your disposal to get the word out. And finally, don't forget to follow up with attendees after the event is over. Send out surveys or polls so that you can get feedback and use it to improve future events.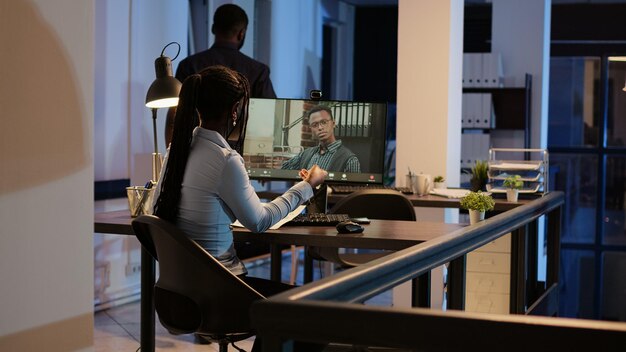 Challenges of Using Virtual Event Software
The challenges of using virtual event software are many and varied. First, there is the cost. Virtual event software can be expensive, and if you're not careful, you can easily blow your budget on unnecessary features or add-ons.
Second, there is the learning curve. It can be difficult to learn how to use virtual event software, and even more difficult to teach others how to use it. Third, there is the challenge of keeping people engaged. It can be hard to keep people interested in a virtual event when they're not physically present.
Finally, there is the challenge of making sure everything runs smoothly. Virtual events can be complex, and if something goes wrong, it can be very difficult to fix it.
Alternatives to Virtual Event Software
There are a number of alternatives to virtual event software that can be used to bring people together for events. Some of these alternatives include:
Social media platforms: Social media platforms like Facebook and Twitter can be used to promote and host virtual events. These platforms can be used to reach a large audience and provide a way for people to interact with each other during the event.
Web conferencing software: Web conferencing software like Skype and GoToMeeting can be used to hold virtual events. These platforms allow people to interact with each other in real time and can be used for a variety of different types of events.
Video streaming services: Video streaming services like YouTube and Vimeo can be used to host virtual events. These platforms provide a way for people to watch an event from anywhere in the world.
Podcasts: Podcasts can be used to create virtual events. These episodes can be downloaded and listened to at any time, making them perfect for busy schedules.
Conclusion
Oreed understands the scope and how virtual event software is revolutionizing the way we connect with each other. With its powerful features and easy-to-use interfaces, virtual events have become a preferred way to bring people together in an engaging and interactive setting.
Whether you are hosting a webinar, conference, or even a wedding reception, this technology can help take your event to the next level by creating an unforgettable experience for all involved. The future of virtual events looks very interesting indeed!